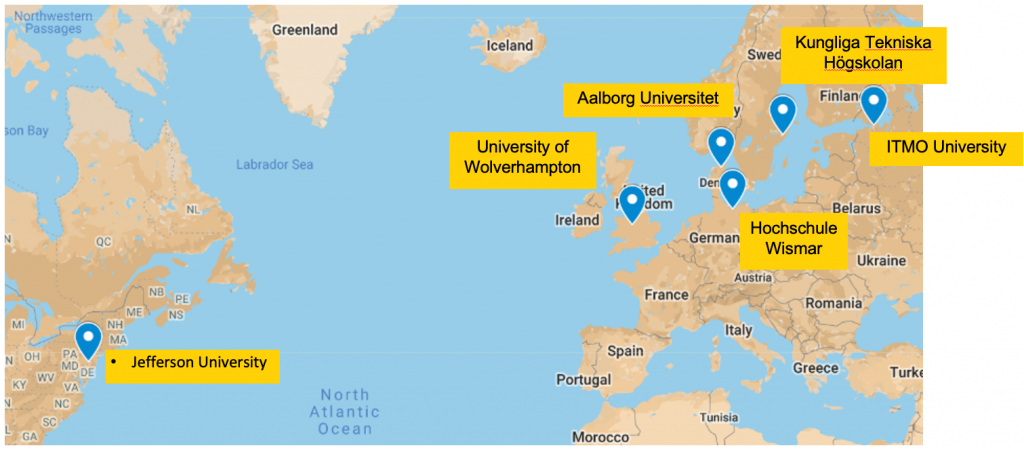 The LIGHT4HEALTH consortium partners are universities, selected according to their potential contributions to the project objectives. All of them have a vast and fruitful experience of HE transdisciplinary curriculum innovation development with international partners, using digital educational platforms. All participating personnel members have research expertise in fields related to lighting and design, including some EU-funded projects. Four out of six partner organisations have strong master study programs in Lighting Design. UoW and TJU have no Lighting Design master study program yet, but TJU's concentration in Lighting Design addresses developments in multidisciplinary approaches for lighting with a hands-on curriculum with students from a range of academic programs. Spearheaded by Jefferson's Industrial Design Department, this Lighting Design Education curriculum applies cross-discipline education to Lighting Design across 10 departments including Industrial Design, Architecture, Interior Design, Engineering, Animation, and Medicine
The University of Wolverhampton is a large UK Higher Education Institution. It aims to be a University of Opportunity – renowned for creativity and innovation – developing students and staff who are entrepreneurial, eminently employable and well connected within a research and professionally informed environment. It has approximately 23,000 students and 2, 500 staff. Subject areas are based around 4 faculties: Arts; Science and Engineering (both involved in this project); Social Sciences, and Education, Health and Wellbeing. It has an excellent reputation for widening participation and has built up strong links with the business community within the West Midlands (including lighting companies). The Faculty of Arts team is based in the Product Design department, and the Faculty of Science and Engineering is based in the School of Architecture and Built Environment, and involved in SYCON: a multidisciplinary research group aimed at evaluating how the built environment impacts on human interactions and welfare.
Thomas Jefferson University is a leader in interdisciplinary, professional education. Jefferson, home of the Sidney Kimmel Medical College and the Kanbar College of Design, Engineering and Commerce, is a preeminent university delivering high-impact education in 160 undergraduate and graduate programs to 7,800 students in architecture, business, design, engineering, fashion, health, medicine, social sciences and textiles. The new Jefferson is re-defining the higher education value proposition with an approach that is collaborative and active; increasingly global; integrated with industry; focused on research across disciplines to foster innovation and discovery; and technology-enhanced. In the LIGHT4HEALTH project, TJU's six staff members will be responsible for the providing and leading various proven evidence-based research methodologies based on proven expertise from their Lighting Research Lab focusing on the effects of light on health, as well as proven cross-disciplinary practices for higher education that will greatly enrich the collaborative efforts between the design and research fields. 
KTH ROYAL INSTITUTE OF TECHNOLOGY
Since its founding in 1827, KTH Royal Institute of Technology in Stockholm has grown to become one of Europe's leading technical and engineering universities, as well as a key centre of intellectual talent and innovation. KTH is Sweden's largest technical research and learning institution and home to students, researchers and faculty from around the world. (Added by me) The project will be carried out by representatives of the Department of Lighting Design at KTH School of Architecture and the Built Environment (ABE), with support from the department of Media Technology and Interaction Design (MID), School of Electrical Engineering and Computer Science (EECS), two of the five schools which constitute KTH. The ABE School is unique among KTH schools because it works with both the natural sciences and technology and with the social sciences and the humanities, and is comprised of seven departments and eight centers for advanced research, many led by internationally renowned scientists.
The University of Applied Sciences in Wismar can look back on over one hundred years of history. Its unique three-pillared profile with the three faculties – Technology, Business and Design – illustrates its main characteristic. Due to the many interdisciplinary projects and the cooperation occurring in teaching and research, these three pillars are closely linked with one another and produce special synergetic effects. Teaching, learning, researching and manufactured also occur at further sites in Malchow on the island of Poel and in Rostock/Warnemünde. As a practice-oriented institution, the balance between teaching content and its real-world implementation plays an essential roll. In this regard, the experience of professors of The Master of Arts program in Architectural Lighting Design at University of Wismar, which was the first MA program. It will make a valuable contribution to the development of L4H project. The MA ALD students at University of Wismar benefit from the profound practical knowledge of their lecturers, for whom the connection between technology, design and the health aspects of light is the essential current challenge. In addition to theoretical fundamentals, practical exercises and workshops, it includes a compulsory practical semester. There is a special seminar on LIGHT & HEALTH held every semester at University of Wismar. Another important impact on the L4H Erasmus+ project is the Light Symposium Wismar (LSW) which started 2008, for the hundreds anniversary of the University of Wismar. The next LSW will be in 2020.
On a national basis, 23.000 students and around 3500 employees are affiliated to Aalborg University (AAU), and we offer a wide range of study programmes within the fields of natural science, social science, humanities, engineering and medical science. Aalborg University consists of three campuses, which are situated in Aalborg, Esbjerg and Copenhagen. All degree programmes and research activities at Aalborg University are problem and project-based and have an interdisciplinary focus. Through strong interplay between staff and students and intense collaboration with public and private sectors, we offer degree programmes with a real-world approach and provide world-class research. This results in new insights, new solutions to social challenges and knowledge that changes the world. In L4H project, AAU participates with the Lighting Design Research Group (LiD-RG) of the Department of Architecture, Design and Media Technology – AD:MT (Faculty of Engineering and Science). This LiD-RG with its center on the Aalborg University campus in Copenhagen has as its mission to contribute to new and improved ways as to how we use and perceive light in our daily lives.
A national research university founded in 1900, ITMO University is one of the leading higher education institutions in Russia that provides training and research in advanced science, humanities, engineering and technology. Its main focus areas are IT, Photonics, Optics, Mechatronics, Robotics, Smart Technologies, Art & Science, and Urban Studies. More than 11,000 students study at the university, 16% of whom are international students from 82 different countries. ITMO's mission is to provide opportunities for the holistic development of individuals and to inspire them to tackle global challenges, as the University's philosophy is to be "More than a University". Joining the L4H project will be the professors and researchers from the Creative Lighting Department, a part of the Faculty of Applied Optics. They will be responsible for the introduction of new educational elements into the educational course on health research for lighting designers.
ASSOCIATED PARTNERS:
VIA-Verlag company, Germany
Università Iuav di Venezia, Italy
Vicenza Institute of Architecture, Italy
Roma Tre University, Italy
Tallinn University, Estonia – The School of Digital Technologies
Janowicz Architekci
Seoul Semiconductor,
QLAB Laboratory of Light,
Solemma,
GL Optic